Flood Insurance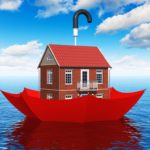 Do I need Flood Insurance?
Flood Insurance covers damages not covered by homeowner's policies. In USA, flooding is a serious risk. This is due to the country's geography and proximity to water, both on the coast and the interior. Insurance to cover floods in USA is not usually included in a homeowner's policy. Most often, it is a separate investment.
Depending on your location, flood insurance may be required to obtain a mortgage. Federal law requires some locations that typically flood to have flood insurance.
When should I buy flood insurance?
Today! A 30 day waiting period is required for most flood insurance policies before the coverage is effective. Exceptions include the purchase of a new home, where the closing is within 30 days.
Does Homeowners Insurance cover flood damage?
Most home insurance policies don't include protection from flood damage. If you're interested in protecting your home and family from floods, you will need to invest in a separate flood insurance policy. One of our Click & Save Insurance agents can help you understand how flood insurance can help protect you and your family.
How can I save money on my Flood Insurance?
Some policies provide discounts for the following:
National Flood Insurance Program (NFIP)
Multi-policy discount (Combine home, auto, flood, motorcycle, RV, etc.)
How can a Click & Save Flood Insurance Agent help me?
Our friendly and knowledgeable agents can:
Explain the various Flood Insurance policies and options.
Give valuable information about the Flood Insurance claims process.
Explain what your Flood Insurance coverage protects.
Provide you with very important information on home safety.
Am I eligible for the National Flood Insurance Program (NFIP)?
You may be eligible for flood insurance at a modest cost through the federal government. You may qualify if your home is in a community that participates in the National Flood Insurance Program (NFIP). If you are eligible, Click & Save will issue flood insurance that's administered by the federal government. Check with the knowledgeable professional agents at Click and Save Insurance first!