Renters Insurance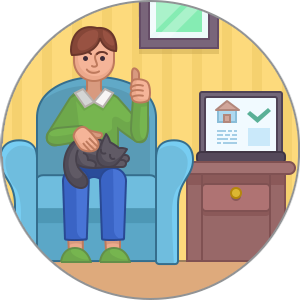 Protect your valuable investment. You will lose financially if something happens to your valuable assets and you are not properly protected. With Click & Save, you can buy the best protection you possibly can at the best price you can get. When researching Renters Insurance, don't assume your landlord's insurance covers your Personal Property. Generally, a landlord's insurance policy covers the building. It will not cover what's inside your walls.
Does Renters Insurance include Liability Coverage?
Your coverage will include liability protection. This will cover injury to another person on your property. The coverage can even pay for your legal defense under these circumstances. The policy will also include medical payments coverage that pays for medical expenses of those who don't live with you, but who are injured on your rental property.
How can I save additional money on Renters Insurance?
Sprinkles and/or Smoke Alarms

Home Security System

Multi Policy Discount… 

Bundle & Save!
Key factors in determining your Renters Insurance:
Insurance history
Coverage (Limits and deductibles)
Type of Rental
Location
Personal Property Value
What is the difference between Actual Cash Value and Replacement Costs?
Make sure you know the difference between the actual cash value and replacements costs. Your renters insurance will include one or the other. The two are very different. While Replacement Cost will get you a brand new TV, Actual Cash Value will only get you what it is worth today.
Need optional coverages?
Optional coverages will give you added financial protection in the event of an accident resulting in a claim.
Replacement Value
High Value Property (jewelry, coin collections, sporting goods, specialized electronics, and other valuables)
Business Merchandise
Business Liability
Additional Natural Disaster Coverage
and more.